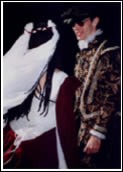 Looking for Atlanta Wedding DJs? We are Universal Entertainment, a special events company experienced in providing Atlanta's most talented DJs for your wedding or reception. The Flexability of a DJ can't be beat. From the fabulous 50's to today's hottest hits, a DJ can cover almost any request for you and your guests! There's something for everyone no matter what your age, and a huge variety of music styles to please even the most diverse musical tastes.
Hand picked and professionally trained by the best talents in the industry, you can depend on our DJs to be fun courteous, and prepared to take requests all day or night. In fact, many of our DJs and party hosts work at Atlanta's favorite night spots and top radio stations such as Q100 and Star94! Our dance lighting packages are designed to excite the senses, and are a great addition to any evening event! From black tie gala events to rennasance style fairytale weddings, your DJ is always appropriately dressed to complement the theme of your event, and comes equipped with a arsenal of music to provide the perfect atmosphere.
Here at Universal, we are great at what we do because we love what we do! We know your wedding will be one of the most important events in your life and you deserve a nothing less than a worry-free wedding day. From the fisrt quote to the last note, we'll be there for you every step of the way. Just give us a call to discuss your event details or schedule a free entertainment consultation in the comfort of your home or other convenient location in the Atlanta area. Provided will be answers and creative solutions to your most common questions.